What Can Be Thrown Away In A Dumpster?
When it comes time for you to need to order a  dumpster for a remodel, garage cleanouts, attic cleanouts, yard cleanup, etc, you may wonder, what exactly is allowed to be disposed of in one? That's a good and very important question to ask.
Some people may think that everything and anything can be thrown away in a dumpster. But the truth is there are some things that are against the law to dispose of in a landfill. This is due to safety and health hazards certain items can cause.
First, we will go over all acceptable items you can put in a dumpster. Then, we will go over what is not allowed to be disposed of in a roll-off dumpster according to waste management rules.
Items Allowed To Be Disposed Of In A Dumpster

General Waste / Trash
General waste or trash that you find around your home all goes safely into your dumpster. Examples include trash, food waste, clothing, and everyday household materials. Toys, curtains, rugs, old documents, cardboard, and similar non-organic trash can all be put in a dumpster, too.

Construction Debris
If you are remodeling a home you will have a good amount of construction debris to dispose of. Drywall, wooden materials, siding, flooring, and other construction and demolition debris can go into dumpsters.
Heavy materials such as concrete, bricks, stone, and asphalt may be put in a dumpster but may be subject to an overage charge due to the weight.

Furniture
Almost all types of furniture are accepted in dumpsters such as couches, tables, chairs, bed frames, etc. However, in some locations, upholstered furniture and mattresses are not allowed in landfills; and in others, you can throw furniture and mattresses in a dumpster, but it can come with additional fees depending on your local area's regulations.

Yard Waste / Debris
Trees, branches, bushes, grass, uncontaminated soil, and other green waste are allowed in most dumpsters.
Items NOT Allowed To Be Disposed of In A Dumpster
Appliances / "White Goods"
North Carolina law prohibits the dumping of appliances. You cannot dispose of washers, dryers, refrigerators, microwaves, ovens, ranges, water heaters, freezers, unit air conditioners in a dumpster.

Hazardous Materials
Wet paints, stains, lacquers, and paint thinners are not allowed. Empty paint cans can be disposed of or recycled at PaintCare locations. Use the PaintCare Site Locator to find a place to drop off your leftover paint.
Asbestos, pesticides, motor oil and other automotive fluids, propane tanks, household cleaners, ink and resins, and medical waste should never be put in a dumpster.

Car Batteries & Tires
Do not put car batteries or tires in a dumpster.
The good news is there are various ways to properly dispose of scrap tires and batteries. Most auto parts stores or tire dealerships have recycling programs. It's best to call and inquire about the details.
Another option includes finding a local recycler who will then convert old tires into asphalt or rubber mulch.

Miscellaneous items
NOT

to be put in a dumpster:
Discarded televisions
Fluorescent lights
Discarded computer equipment
Aluminum cans
To see that other items are not allowed in a landfill in NC, click this link.
Easy To Order
To make your life easier go online and order dumpster rental service in Raleigh. All garbage, as long it is not toxic, can be thrown in the dumpster as your project continues. Because a dumpster makes it easy to keep the area outside of the home neat and debris free, your neighbors will be happy not to see a huge mess at the curb.
Why Choose Discount Dumpster
We are rated #1 in customer service and satisfaction.
Our dumpster service is easy & quick to order, schedule, and pay right online.
Our FLAT rates include delivery, pickup, and your rental period.
Rent as many roll-off dumpsters as you need for your home project.
We respect your property.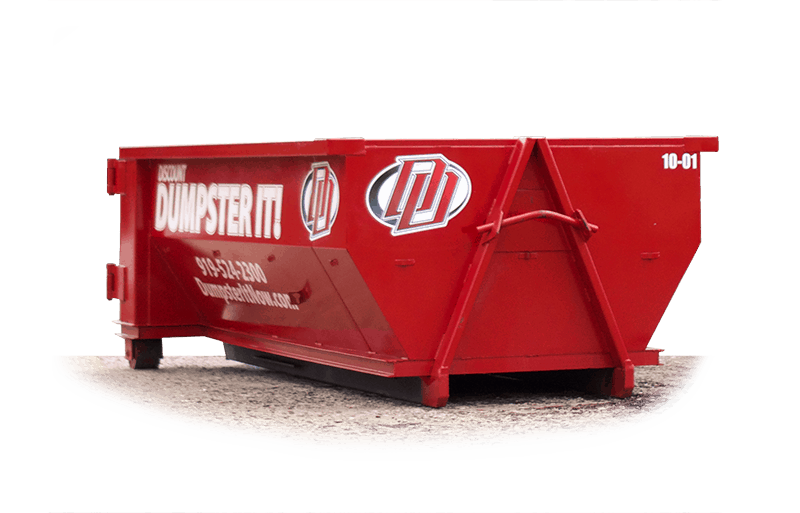 Roll-off Dumpsters
We offer quality dumpster service at an affordable price that is sure to fit in any budget, and are proud to service all of Johnston, Wake, Wayne, Harnett, Durham, and Wilson counties. To order your service 24/7, click on the button below and schedule your roll-off dumpster rental service today.
Discount Dumpster makes a cleanout or renovation project convenient, flexible, and simple. Best of all, we put you in control.