What You Need To Know Before Ordering A Dumpster
https://dumpsteritnow.com/wp-content/themes/discountdumpster/images/empty/thumbnail.jpg
150
150
Dumpster It Now!
https://dumpsteritnow.com/wp-content/themes/discountdumpster/images/empty/thumbnail.jpg
Are you getting ready to start a big home project, moving, or just need to do major cleaning? A dumpster service is the most convenient and economical way to remove a large amount of debris in a short time.
Roll-off dumpster service is the best choice for a large amount of waste generated during a remodel project, cleanout, and yard cleanup. When you're ready to call for the service in Greenville, NC, here are a few things to consider.
What Size Dumpster Should I Order?
Where Should The Dumpster Be Placed?
Finding a good spot for the dumpster is important. Decide the best location for the dumpster to be placed. The delivery driver will look at the area and make a suggestion for the best place to set the dumpster.
Depending on how big your preferred dumpster is, make sure that nothing is blocking the space like cars, trash cans, construction debris, or other household items. Doing this will easily accommodate your on-time dumpster drop-off without any problem.
Can You Put Any Waste In The Dumpster?
Waste disposal does have rules wherever you live in the US. Make sure to follow the guidelines of what your dumpster service allows in its dumpsters. Each county and state has its own specific rules, so it's wise to research what is allowed and not allowed. Items allowed are:
General waste and trash

Construction debris

Furniture

Yard waste 
But across the board, absolutely no hazardous materials are ever allowed in any landfill. How do you know what materials are considered hazardous? 
You may find this helpful when trying to figure out if something is hazardous. If you answer yes to any of the following five questions, do not place the items in a dumpster:
Is the waste material flammable?

Can the waste materials cause rusting or decomposition?

Is the waste material explosive?

Is the waste material poisonous?

Does the trash contain any medical waste products?
If you have hazardous waste, such materials listed here need to be disposed of properly. Your local county or state websites can help you find locations to discard these types of refuse safely.
Easy To Order Dumpster Service
Dumpster It Now provides prompt and professional dumpster service. Our flat rates with no hidden fees are affordable and worry-free. We provide our customers with the highest quality customer service.
Areas we serve are:
Greenville, Winterville, Ayden, Bethel, Grimesland, Falkland, Fountain, Simpson, Bell Arthur, Belvoir, and the surrounding areas.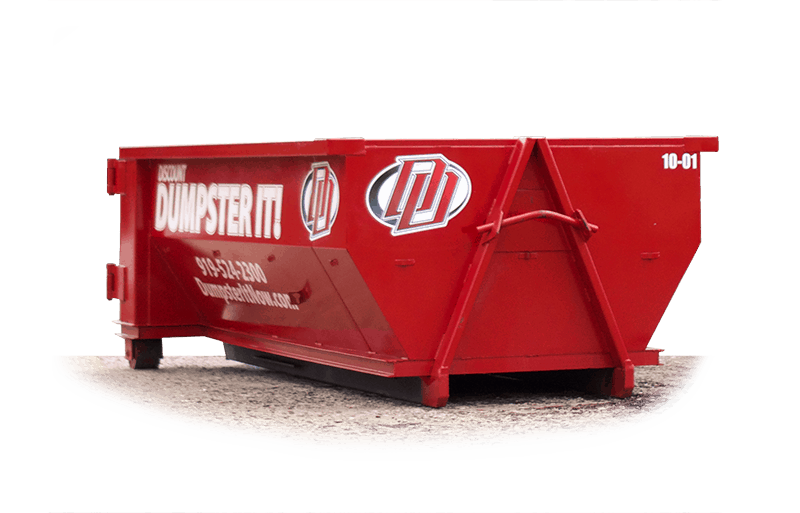 Roll-off Dumpsters
We offer quality dumpster service at an affordable price that is sure to fit any budget and are proud to service all of Pitt County. To order your service 24/7, click on the button below and schedule your roll-off dumpster rental service today.
Dumpster It Now makes a cleanout or renovation project convenient, flexible, and simple. Best of all, we put you in control.