6 Reasons to Rent A Dumpster
https://dumpsteritnow.com/wp-content/uploads/2019/07/banner-dumpster-delivery-bright.jpg
2200
787
Dumpster It! by Discount Dumpsters
https://dumpsteritnow.com/wp-content/uploads/2019/07/banner-dumpster-delivery-bright.jpg
Home and property owners find that a dependable & affordable dumpster service comes in handy for many reasons.
Dumpster rental is ideal for many projects. When it comes to home improvements or home maintenance the accumulation of garbage and debris happens quickly. Are you asking yourself, "Do I really need to rent a dumpster for this project?" Here are 6 reasons why you should rent a dumpster.
1. Moving
It's amazing how quickly we accumulate "stuff". Even if you've only lived in your home for a few short years, we don't realize how much we have until we have to pack it all up to move. You'll quickly start asking yourself, "Do we really need this? I didn't even know we still had it!" If you are moving into a much different space you may even decide to throw out old and worn-out furniture, broken lawn furniture or equipment, old toys, nasty dog houses, and the list goes on.
2. Home Renovations
When it comes to home renovating and remodeling, let's face it your gonna have a mess. Pulling up old carpet and padding may reveal subfloor issues and consequently, the need for areas to be replaced. What about updating kitchen cabinets? Pulling out old cabinetry, backsplashes, and old countertops also mean you will be removing much drywall and other building material. Having a dumpster to toss as you demo will make your job a lot easier with faster clean up.
3. Seasonal Cleaning
Do you ever find that your small spring or fall cleaning project snowballs into a full house purge? And actually, that's a great idea! Go through your home, each room, closet, cabinet, attic, basement, crawl space, and storage shed once or twice a year. If you don't think you'll fill it, coordinate a date with a neighbor, and split the cost.
4. Landscaping & Clearing
Yard clean up and landscaping are big projects. The chore of pulling out overgrown bushes, shrubs, and cutting down trees will quickly turn into tons of debris to remove from your property. You'll find it the easiest and cleanest way to dispose of the yard waste.
5. Roof & Siding Replacement
Removing and replacing a roof or siding adds up to hundreds of pounds of waste. You may find that trim work may need to also be removed and replaced. Having a dumpster onsite will keep the worksite around your home safe by getting rid of all sharp objects including nails, sharp metal flashing, and other building materials.
6. Garage Clearing
Has your garage become a final resting place for the junk you've practically forgotten about? Garages often become the place where all the stuff you're not sure what to do with ends up. Have your piles kept you from being able to park in your garage? It's time to go through the stuff, rent an affordable dumpster, and take your garage back.
Easy To Order
To make your life easier go online and order dumpster rental service in Raleigh. All garbage, as long it is not toxic, can be thrown in the dumpster as your project continues. Because a dumpster makes it easy to keep the area outside of the home neat and debris free, your neighbors will be happy not to see a huge mess at the curb.
Why Choose Discount Dumpster
We are rated #1 in customer service and satisfaction.
Our dumpster service is easy & quick to order, schedule, and pay right online.
Our FLAT rates include delivery, pickup, applicable taxes, and your rental period.
Rent as many roll-off dumpsters as you need for your home project.
We are respectful of your property and blow off the area when we pick up the dumpster.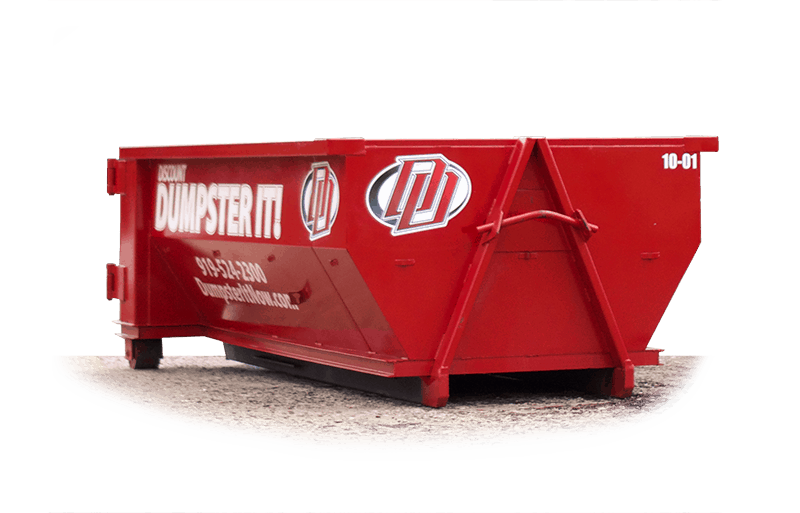 Roll-off Dumpsters
We offer quality dumpster service at an affordable price that is sure to fit in any budget. Our roll-off dumpster service offers 2 sizes in dumpsters that will meet your needs. Our small dumpsters are 10-yard containers capable of holding up to 2 tons. Or our large dumpsters are 20-yard containers with a capacity for holding up to 3 tons of debris.
We are proud to service all of Johnston, Wake, Wayne, Hornett, Durham, and Wilson counties. To order your service 24/7, click on the button below and schedule your roll-off dumpster rental service today.
Discount Dumpster makes a cleanout or renovation project convenient, flexible, and simple. Best of all, we put you in control.