Home remodeling is exciting and about making your home beautiful and more functional. Sometimes even newly built homes have no character or have wasted space. Home remodeling and revisions have become a craze in the United States due to endless home improvement shows, magazines, and online home improvement stores. Options are virtually endless no matter your style or need.
Most cannot afford a high-end custom-built home. So, more are inclined to look for a house in a good area with great bones but may need some work or one that is just in need of some cosmetic character and updates.
Why Is A Budget Important to a Home Remodeling Project?
Successful projects always start with a lot of planning. Before starting a home remodeling project, come up with your budget. Why? For a few good reasons.
 A budget helps you stay within your means to pay for the project from start to finish.
 Contractors base their bids or estimates based on your budget. They don't want a project that a homeowner cannot possibly afford.
Are you a do-it-yourselfer? A budget allows you to establish your priorities in selecting materials and finishes.
Do not forget to budget for surprises. You cannot forsee issues, but it's necessary to expect some. It's wise to have that safety net just in case.
Why Should I Budget In A Dumpster Service?
Don't catch yourself in the middle of demolition day and think, know how do I get rid of all this debris? Regular residential trash services do not allow you to throw your house/construction debris in recepticles for regular trash pickup service. The amount of debris a remodeling project produces can add up to a few tons.
Your home remodeling budget should include a dumpster rental service. All debris, as long it is not toxic, can be thrown in the dumpster as your project continues. Because a dumpster makes it easy to keep the area outside of the home neat and debris free, your neighbors will be happy not to see a huge mess at the curb.
5 Reasons To Choose Dumpster It Now
Rated #1 in customer service and satisfaction.
Easy & quick to schedule and pay right online.
FLAT rates include delivery, pickup, applicable taxes, and your rental period.
Rent as many roll-off dumpsters as you need.
We respect your property.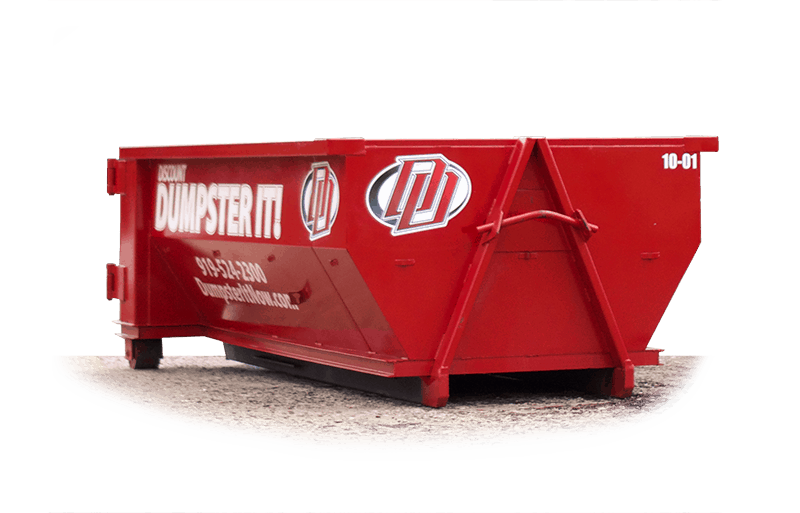 Roll-off Dumpsters
We offer quality dumpster service at an affordable price that is sure to fit any budget. Our roll-off dumpster service offers 2 sizes of dumpsters that will meet your needs.
Our small dumpsters are 10-yard containers capable of holding up to 2 tons. Or our large dumpsters are 15-yard containers with a capacity for holding up to 2.5 tons of debris.
We are proud to service all of Pitt County. To order your service 24/7, click on the button below and schedule your roll-off dumpster rental service today.
Dumpster It Now makes a cleanout or renovation project convenient, flexible, and simple. Best of all, we put you in control.